Client Testimonials
Nothing better than after a successful closing with a buyer or a seller and receiving a glowing email or letter oozing praise for how they felt the transaction was completed. Here are just a few I have received over the years.
Reviewed by G. Bannoura 9/8/23
You will not be disappointed!
Joan Cox is a consummate real estate professional! Not only did she do a great job selling my home, she represented two of my friends in their real estate transactions and they couldn't be happier. Her knowledge of the market is outstanding as well as her negotiation and follow up skills. Please consider using Joan for your next real estate transaction!
Verified by RateMyAgent
JOAN IS AWESOME!!!
Having never sold a home before, I was overwhelmed.
Joan made the process as easy as possible and her advice was priceless.
Review submitted by Maggie (Seller) on 16 Nov 2021
Thank you Diana, what a nice surprise - 9/16/21

Joan is the best!
Joan has been assisting me with real estate transactions for almost 20 years now. We just completed our 5th closing. Joan is knowledgeable and experienced and you can count on her putting her all into it every time.
Verified by RateMyAgent

Couldn't have asked for more!
Joan went above and beyond to get my home sold and closed in a short amount of time; she was always honest and pleasant to work with and I would recommend her over and over again!
Review submitted by Paula (Seller) on 18 Jun 2021
Then I received a review from her sister (REALTOR) who referred her to me -
Thank you, thank you Joan for assisting my sister in her recent move. She wanted a REALTOR who specifically knew Aurora Colorado and The Landing. I know every seller has their challenges and my sister was no different. But with Joan's assistance, the sale of the townhouse went smoothly. My sister is off to her new life out of state. I'd be happy to refer to Joan Cox again and again. Her years of real estate experience and her knowledge are beyond comparison.
Couldn't have done it without her
We entered the market in 2021 when there were more buyers than sellers. But, with Joan's guidance and perseverance, we were able to find our first home. Joan is very knowledgeable, experienced, caring, and patient as she educated us on what we need to look out for and expect in such a volatile housing market. Not only did we gain a new home for us, we also gained a life long friend in Joan.
Review submitted by Arthur & Katrina (Buyer) on 18 Jun 2021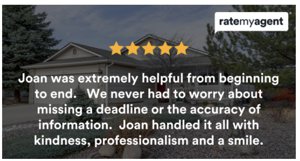 Closed June 2021 - Mark G.
Bought a home in Stroh Ranch, Parker CO
April 2021
Professional and caring Realtor that delivers great results!
Joan is a true professional and a master of her craft! She is a Realtor with a Capital R and takes great pride in her work. You can tell that she loves her job and everything that comes with it: She stays up to date on the market, she knows all about local areas, she is extremely knowledgeable about the entire real estate process, she will advise you along the way. Joan is also very responsive and she treats every client as though they are her only client (even when she is juggling multiple buyers and sellers in a crazy market) and communicates well. Joan is also a warm and caring person and a joy to be around! As clients who have bought and sold a home with Joan's help, we cannot recommend Joan enough! She negotiated the best deal possible when we purchased our home, and got us the best price available when we sold. Thank you, Joan!
Verified by RateMyAgent
February 2021

Selling of a home
The most caring and honest person in the business. No hidden agendas. Ms Joan keeps you involved every step of the way.
Verified by RateMyAgent
We began an email correspondence with Joan Cox about a year and a half ago re: buying a house in CO.
Having Joan Cox as your realtor will be your first, best decision in buying a new house. She has an in-depth and exhaustive knowledge of the entire Denver and suburban area. In addition, Joan has her finger on the pulse of the market, which is so volatile and dynamic in these times that it is imperative to work with someone who has an accurate picture of what is a fair price point and which houses might have multiple offers and require an additional amount over the asking price. Her communication skills are equally superb. Joan will always return calls, emails or texts promptly. She is very professional and is also quite personable. She is kind, thoughtful, patient, friendly, cheerful, and an attentive listener which no doubt is part of the reason why she is able to help you find the right house for your needs. Joan was able to point out the attributes of a listing, both positive and negative, as well educate us on houses and neighborhoods in Colorado since we were relocating from out-of-state.
The Millers from California
★ ★ ★ ★ ★ October 2020
10/27/2020 - Haley Family
Bought a Single Family home in 2020 in Aurora, CO.
Joan was a wonderful relocation specialist and realtor. She assisted our family of 6 in every step of the process of relocating to Denver. From researching neighborhoods, schools and parks to finding the perfect home for us, Joan was knowledgable throughout the entire process. Joan also knows the real estate market well and is not afraid to negotiate.
★ ★ ★ ★ ★ April 2020
Joan is a very professional agent. She was very helpful throughout the whole process. During the issues with the virus there were circumstances no one had ever dealt with before she kept us informed and helped calm our nerves from start to finish. This is the second home she helped us sell and buy. Highly recommended her services.
September 2019
Joan is amazing and I highly recommend her. Now read more if you want to know why I say this. I hired Joan after reviewing several recommended agents and interviewing two of them. All were highly regarded agents so I really could not go wrong. However, I chose Joan because I liked how she did her market analysis and lived closer so I felt she would watch over the property more frequently. This was important since we live over an hour away from the property and I needed to rely upon the agent to handle everything locally. Her analysis showed the condo should sell for more than what Zillow showed and what the other agent came up with using his fancy computer-based system. She was right. I netted about $12,000 more than what I would have received going with the other agent. She stays on top of everything and communicates with daily emails or texts. She kept an eye on the place. It sold within a month and during that month she made frequent visits to the condo as promised. Joan coordinated all of the agreed work needed after the inspection and was going to even go out an buy the new smoke detectors to leave with the unit for us so we did not have to hire a handyman. She did all of the usual stuff like contracts and closings, but it was clear during the negotiations that she was working for us to make sure we were properly represented. I cannot recommend Joan enough and you will not be disappointed for choosing her as your agent.
Larry E.
Colorado Springs, CO
July 2019
Sold a Single Family home in 2019 in Larkspur, CO.
This is our 4th transaction (2 buys / sales) with Joan in 11 years. She is exceptionally professional, knowledgeable and most important~ responsive! Joan goes above and beyond for her clients in marketing and communication~ you will not find anyone better!
Nov 12, 2018Published
Joan is amazing at what she does! She is quick to answer the phone and answer any question. She is reliable and efficient. Always explaining contracts and taking the stress of the unknown out of buying and selling. I can not recommend her more highly and I personally would never use anyone else. LOVE Joan Cox!
May 2018
Laura Gravelle
Self-Employed
Joan was a wonderful realtor to work with! We were on a tight schedule to get our house listed. She had it sold the day after listing for over asking price. She came to our home and took the time to go over all the fine details of selling and made sure we didn't have any unanswered questions. From start to finish, the experience with Joan was the best we have ever had with a realtor and she got the job done effectively. We would recommend her to everyone! I'd give her a 10 star rating if I could!
February 2018
Joe & Victoria Forte
We were worrying that selling our condo was going to be a nightmare but with the knowledge and experience that Joan exhibited and shared, our worries were soon put to rest. Joan is an expert at keeping all of the balls juggling smoothly and she has a way of instilling confidence in her clients and we knew no deadline would be missed. Joan is highly focused on maintaining extremely open communication throughout the entire process which we really appreciated. We could ask her any question and if she didn't have the answer, which was very rare, she would complete the research necessary to provide us with clarity. She also knows the ins and outs of real estate and the associated legal ramifications so our advice is you definitely need her on your side, whether you're buying or selling a property. We were very lucky that we listened to her advice and listed the property during a time of year that we thought no one would be looking for properties. The same day she listed our property, she received 8 showings and 5 offers! If we could give Joan 10 stars, we would because that is what she is worth and deserves.

January 2018
Jean LeLoup & Jeff Morris, Professor & Engineer/Novelist
Joan is hands-down the hardest working, best informed, most knowledgeable and able real estate agent we have ever dealt with -- and we have been through many houses over the years. She is thorough, always available via phone/text/email and truly knows the market. She works extremely hard for her clients to get them the best results possible, whether buying or selling or both. Plus, she is just an all-around "good egg" -- wonderful person, great personality, trustworthy, lively, pleasant--we don't have enough super adjectives to describe her. We recommend her 200% -- and are so very thankful to have met her some 9 years and 3 houses ago!! Joan Cox rocks!!
May 2017
As first time home buyers, the only thing more daunting then actually going through the process was the amount of things we didn't know to research and watch for. Joan was introduced to us through some good friends and probably the best decision we made in this process. The amount of connections she has is outmatched only by her amount of knowledge for this industry. We couldn't have been as successful as we were in the Denver housing market without her.
Brock Martin
March 2017
Joan is a very professional and personable realtor. My wife and I were first time home buyers and Joan had the perfect blend of patience with us and a thorough understanding of the industry. We would highly recommend Joan to anyone looking to buy a home. She always has your best interest in mind and is very organized/on top of everything.
Eric & Ashley Lona
The Denver housing market can be very challenging to say the least! Joan Cox was my invaluable professional resource and guide – honest, reliable and extremely competent! Joan was always available to provide answers if issues or questions came up. Her comprehensive experience, complemented by her selected professional contacts, quickly smoothed the way and calmed any jitters or fears I had. I had an excellent experience both selling a townhome (on July 4th and the first listing day) as well as purchasing a single family home (with multiple buyers making offers) in Lakewood. She always has a smile and also such a welcoming personality. Realtor Joan Cox is THE best and I highly recommend her!
Carol Young, Lakewood
My husband and I hired Joan to represent us in the sale of our home in Aurora. Joan was just amazing to work with. Her knowledge of the market, her willingness to do what needs to be done, her negotiating skills makes her the top in her field. As a Realtor myself, my standards are very high and Joan exceeded all of my expectations. I would highly recommend her to represent Sellers as well as Buyers. I hope that I am able to work with her in the future! Robin Bowie Phoenix, AZ
I've been working with Joan since 2008 during a relocation from Florida. She is extremely knowledgeable of the marketplace, very patient, and goes above and beyond to meet your needs. Joan has since relocated two of my immediate family members, and I highly recommend her services.
John & Julie
Joan is, by far, the best Realtor my husband and I have had the pleasure of working with. She is very personable, professional, efficient, responsive, honest, and knowledgeable! She was able to explain the entire process, from beginning to end, in terms that we understood and helped us to make educated and informed decisions about the purchase of our home and the sale of our condo. Joan was able to get my condo under contract within approximately 40 days of it being on the market and then through to a completed sale. And our relationship did not stop after the purchase or sale of our places - she followed through with us after each transaction, answered any questions we had, and referred some excellent community referrals for home improvements and such. She also checks in with us every once in awhile to say hello and see how things are going. She is always available via phone or email and, if by chance she is unable to immediately answer, she will return your call or email within a couple hours and usually within minutes. We consider her our realtor for life as well as a friend!! She is highly, highly recommended!! You will thank me if you choose her for your realtor and definitely will not be disappointed!
Wendy & Ed
Joan was able to see the potential value in our home from the beginning. We interviewed multiple agencies and she presented herself as a truly dedicated professional. She had a great plan in listing our home, did the research to get us the highest price, and created a frenzy of buyers to get it sold. Our home sold in the first day within hours of listing. Joan not only promised she would get us the best price, but she got us more than what we asked for. Joan remained extremely dedicated and kept us in the loop through the entire process. I am truly impressed with her work ethic, her communication skills, and dedication to all her clients. If you need to sell your home or purchase in the near future, I would highly recommend getting in touch with her and she will get the job done. Joan, me and my family cannot say thanks enough. You are truly at the top of the leader board in your profession.

Thanks Jeremy and Family
"Joan helped us to buy our current house. She is the best realtor we have ever used ( This is our 3rd house and we have used several realtors in the past, but she is the best of all) .
She is professional, always punctual, trustworthy and a very hard worker. I highly recommend her."
Service Category: Real Estate Agent
Year first hired: 2012
Top Qualities: Great Results, Personable, Expert
Emi Scala


Joan Cox just sold my house. She was terrific from the beginning to the end of the process. On numerous occasions she went out of her way to help me out when things needed to be done. For example, she helped me find a cheap source for new carpet. She even found someone to pull my weeds when they got out of control. She was terrific and helped explain everything along the way. She worked really hard to find a buyer. Thanks, Joan!
Jane - Aurora
A bit over a year ago, I became the financial representative for my uncle who had to move to a nursing home. In time it became clear that the move was permanent and something would need to be done with his Aurora townhouse. I live out of state so I was not in a position to spend much time on-site on the project. I enlisted the help of a downsizing business to deal with much of the contents of the townhouse. Joan Cox came highly recommended through them. I think think the recommendation fell well short of the expertise, wisdom, dedication, energy, and integrity Joan displayed throughout the process of preparing the house to sell, pricing it realistically, listing it to its advantage, getting word out about it, advising me on the suitability of offers, seeing things through the process leading to closing, and seeing me through the inevitable difficulties along the way. Throughout the process, I felt very much that we were a team, working well together on this project, start to finish. Joan is completely professional and at the same time relates in an understanding, caring manner. And if I hadn't pieced together that she spends nearly all of her time helping clients, I would have said her main focus was on selling my uncle's townhouse. I would not hesitate to highly, unconditionally recommend Joan to anyone in the Denver area considering buying or selling a home.
Don Hiller
Washington State

When we decided to upgrade our home we wanted to find a realtor who would be more than "just a Realtor". This person would not only sell our current home, which was the easy part, but also help us find our next home. We felt that to have someone help us find the home we would live in for the next possible 30 years, that person had to go beyond being a realtor and had to care about how happy we would be in that house after the sale. We interviewed five Realtors before choosing Joan Cox. At our first meeting, she gave us bottom line figures of costs showing us what we would possibly net to have towards our next house. She had everything we wanted to know written out in black and white, some of which no other Realtor had given us during their interview. Not information about the Company or their background but her background and what she would do for us. This was a tremendous deciding issue because it told us she would not hide anything, all information was given before we even knew to ask about it. During our selling period, she took the time to really discover what made us happy and what type of home and surrounding area would prosper that. On top of that, she gave us an easier selling and buying experience than we imagined it would be. I would, and have, recommend Joan to anyone. My bottom line is that I would trust my mother with Joan and that's the best thing I can say about anyone.


Darla Reish & Ruben Jaramillo
Littleton, Colorado

Joan Cox was a real partner in helping us get into our new home.

We were looking to relocate to Oklahoma and move into a home under construction. The sale of our home in Aurora and the timing of that sale was critical in making this move. Joan handled the sale of our house in Aurora from start to finish. After a market study of the area, she gave us a realistic estimate of what she thought our house would bring. This was critical in our decision to move and purchase the new place. She candidly pointed out the things we could do to make the house more marketable and steered us away from those things that would not be that much help in the sale.

Joan did a lot more than simply put a sign in front of the house and list the property in the MLS. She marketed the house with color flyers and ads in various magazines and newspapers. She used her network of contacts to find other realtors who might have buyers interested in a property such as ours. She held a number of open house showings and coordinated showings with other realtors. After every showing she got feedback about the impressions - both good and bad - from the other realtor and their client. Throughout the whole process, she kept us appraised of what was going on, both with what she was doing to sell our house as well was what was happening in the local real estate market and how that affected us.

When we received an offer on our house, Joan negotiated on our behalf with a counter offer that successfully got us a sale price that was very close to her original estimate of the value of our home. Joan was able to set up a closing schedule with the buyer that dovetailed perfectly with the closing on our new home.

Joan also helped us with the purchase of our new home by using her network of contacts to find us a realtor in Oklahoma that would represent us in that deal.

I have worked with several realtors over the years and Joan was not only one of the most professional, she was also truly concerned about her client's needs and finding a solution that worked for them.

Greg and Carol Chamberlin
Edmond, Oklahoma