Saddle Rock Ranches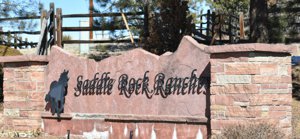 You will find this neighborhood South of Smoky Hill Road and East of Picadilly in Centennial CO 80116. All homes are on acreage ranging from 1 acre to 2.5 acres. You will find ranches and two-story homes with 2-6 bedrooms, 2-6 bathrooms and 2-7 car garage spaces. These homes were built from 1981 to 2002 and range from 1,392 square feet to a total finished 6,834 square feet. This location is wonderful - as Southlands Shopping Center is just a hop & skip away, with lots of retail shopping, dining and entertainment. There is an HOA, but voluntary.
School-aged children will attend Cherry Creek Schools - Creekside Elementary, Liberty Middle School and Grandview High School.
Below you will find all active listings in Saddle Rock Ranches -
No current listings, please check back later.