Pioneer Hills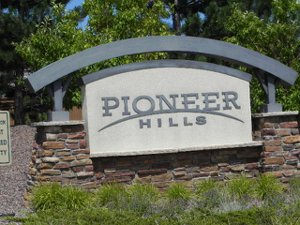 You will find both single family homes and townhomes available in Pioneer Hills. This community is located off Chambers Road just North of Parker Road, some in Aurora, some in Centennial.
For the townhomes - Colonnade built some from 2006 to 2009, and Cal-Atlantic finished the townhome and rowhome community of 80 in 2018. You will find these townhomes with 1,554 square feet to 2,215 square feet, all with basements and all with two-car garages.
The townhome community is a pool community.
School age children will attend the following Cherry Creek Schools - Sagebrush Elementary, Laredo Middle School and Smoky Hill High School.
For the Single Detached Homes - Ryland (is now Cal-Atlantic) has built all the homes from 2013 with new homes, nut now are complete. You will find two-story and ranch homes available from 1,829 to 4,107 total square feet all with two and three-car garages. This is a pool community. The HOA fee includes trash & recycling, and use of the pool.
The school-aged children in the single family homes will attend the same Cherry Creek Schools.
The location of Pioneer Hills is fabulous, with easy access to Parker Road, I-225, lots of retail options, and dining nearby. The Cherry Creek State Park is across the street with many bike trails entering the park, and lots of outdoor and water entertainment! There is also a horse back riding company across the street and dog park.
Here is what happened in all of 2022 - (townhomes only)
Properties sold - 10 properties ranging in price from $490,000 to $580,000
Average Days on market - 23 days
Sellers saw 100% to list price
These townhomes were built from 2006 to 2017
This one year old ranch townhome was sold in 2018 -
Here is a video for the townhome section of Pioneer Hills -
Below you will find both attached and detached family homes currently available -