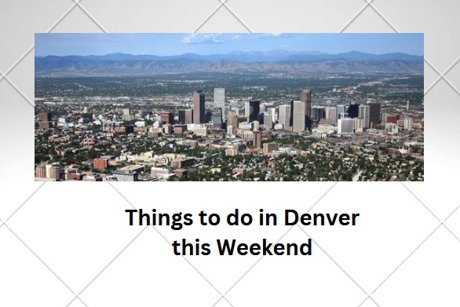 As we wave a sad goodbye to Summer, and welcome in Fall, there are lots of things you and your family can enjoy this weekend!
Of course, the first thing is the Home Opener for the Denver Broncos! We have new management, a new quarterback, and some high hopes for this coming year. The home opener will be Monday night at Empower Field. Denver vs Houston Sunday 2:25 pm.
NORTHGLENN — The Northglenn Pirate Festival is back this Septembarrr weekend. The festival begins with Pirate Night on Friday, Sept. 16 at 6 p.m. with live music, sword fighting, dinner, and drinks. The main Pirate Festival on Saturday, Sept. 17 is for kids, families, and individuals with crafts, activities, bounce houses, pirate demonstrations, character appearances, and Carboard Boat Regatta. See the festival schedule at ThePirateFest.com.
Fall Fest
BOULDER — The annual Fall Fest on Pearl Street Mall in downtown Boulder takes place Friday, Sept. 16 to Sunday, Sept. 18. This fall tradition features arts, crafts makers, beer garden, children's activities and live music. A handmade artisan market has 100 makers selling home goods, fine art, ceramics, skin care products, leather goods, pet goods and artisanal food.
Summerset Festival
LITTLETON — The sun may be setting on summer, but there's still time to experience a fun, outdoor community festival. The 2022 Summerset Festival takes place Saturday, Sept. 17 at Littleton's Clement Park from 9 a.m. to 5 p.m. There will be craft and vendor booths, kids' activities, a car show, live entertainment, and beer garden with 12 local breweries.
Broomfield Days
BROOMFIELD — The annual Broomfield Days is Saturday, Sept. 17 with family activities and entertainment at Midway Park. The day includes a 5K race, clown contest, parade, trade fair, canine competitions, craft festival, food booths, three stages of entertainment and demonstrations.
Miners Day
FREDERICK — Miners Day returns Saturday, Sept. 17 to celebrate Frederick's mining heritage. The annual event offers fun and entertainment including a parade, burro race, vendors, food trucks, activities, contests and live entertainment. New in 2022 is an Electric Vehicle Car Show. Miners Day will conclude with a concert and fireworks display.
Kittredge Canyonfest
KITTREDGE — The annual Kittredge Canyonfest will be held Saturday, Sept. 17. The day offers games, silent auctions, arts, crafts, food, drinks, entertainment and vendors. The festival will be held at Kittredge Community Park, adjacent to Highway 74, on the west end of the town of Kittredge.
Taste of the Middle East
AURORA — The 3rd annual Taste of the Middle East Festival will be held Saturday, Sept. 17 at the Aurora Municipal Center's Great Lawn. The festival showcases the food, music, art and dance of Middle Eastern cultures in Colorado. There will be performances from George Nehme, Tony Eid, Rita Farah Fahmeh, Samer Murad and dance performances by Maysa Mais & Ashraf Obossria Skirt. Festival admission is free and VIP tickets are available online.
Loveland Chocolate Festival
LOVELAND — The Loveland Chocolate Festival features six hours of chocolate sampling, shopping and entertainment. There will be chocolate and beer pairing and samples, samples, samples. The festival, which kicks off at 11 a.m. Saturday, Sept. 17, is your source for chocolate fountains, chocolate truffles, chocolate fudge, chocolate martinis, chocolate cupcake, chocolate brownies and more. Grab your tickets at COChocolateFests.com.
Denver Oktoberfest
DENVER — The 52nd annual Denver Oktoberfest returns Friday, Sept. 17 for the first of two weekends of stein-lifting fun in downtown Denver. In addition to stein-hoisting there will be food, bier/beer, live music, brat-eating contest and more. The party will be located between 20th and 22nd on Larimer Street in the Ballpark neighborhood near Coors Field. The celebration runs Friday to Sunday this weekend... and next weekend as well. General admission is free, but Octoberfest steins and VIP tickets can be found at TheDenverOktoberfest.com.
Vail Oktoberfest
VAIL — With a gorgeous mountain backdrop and "European flair," the Vail Oktoberfest has been named one of the ten greatest Oktoberfest celebrations in the United States. The festival, which runs Friday, Sept. 16 to Sunday, Sept. 18 in Vail Village, will have Bavarian fare including brats, schnitzel sandwiches and pretzels. On the schedule this weekend are stein-lifting competitions, adult keg-bowling contests, bratwurst-eating contests, Bavarian costume contest and live music. Vail Oktoberfest is free and open to the public at Vail Village.
Oktoberfest in the Mountains
DILLON — Bust out your lederhosen for the annual Oktoberfest in the Mountains at Arapahoe Basin. The event at Mountain Goat Plaza will have live music, dancing, beer, brats and pretzels from 11 a.m. to 4 p.m. on Saturday, Sept. 17 and Sunday, Sept. 18 with free chairlift rides all weekend.
Art on the Green
GREENWOOD VILLAGE — Art on the Green runs from 10 a.m. to 5 p.m. Saturday, Sept. 17 and Sunday, Sept.18 at Curtis Center for the Arts. This free all-Colorado art fair features dozens of artist booths, food trucks and live music.
Handmade in Colorado Expo
DENVER — The 14th annual Handmade in Colorado Expo runs Friday, Sept. 16 through Sunday, Sept. 18 at Skyline Park in downtown Denver. The free event features independent designers producing original handcrafted goods from a wide array of media including metals, paper, glass, fibers, food, fabricated objects, clay, paint, wax, gems, and more.
So Long to Summer 5K/10K
PARKER — Enjoy the end of a Colorado summer with a workout with family and friends followed by a reward of pancakes. The So Long to Summer 5K/10K begins at 8 a.m. Saturday, Sept. 17 at Salisbury Park in Parker. You can register at ParkerRec.com.
Keith Urban
DENVER — Country music superstar Keith Urban brings "The Speed of Now World Tour" to Colorado this weekend. Urban will be joined by Colorado native Ingrid Andress and one half of Florida Georgia Line, Tyler Hubbard, at a concert at Ball Arena in Denver on Friday, Sept. 16. Ticketmaster.com is the place for tickets.