A Luxury Home can be identified differently in cities across the country, but in Denver, my Luxury blog posts will report on detached single-family homes listed in the Denver metro area for over $1.3 million. (Over the years I have used $1 million as luxury, but with our rising home values, had the need to increase this amount.) Some have mountain and/or city views, and some properties back to a golf course, or have water views all to compliment one's lifestyle. (however, we don't have much water) Some are updated with products from around the world, and some have expansive square footage or acreage. Whatever a Buyer is looking for, most likely if you have over $1.3 million, you can find it in Denver or in the surrounding suburbs.
Here is how the luxury market fared for the month of September 2022 -

Total sales - 221 homes ranging from $1,300,000 to $5,899,999 (last month was 339 homes, 2021 was 391)

Average Days on Market - 33 days (last month was 23 days last month and 2021 was 25 days)
Sellers saw - 98.33% to list price
Average price per SF (Total) - $561.68 (last month was $546.99)
These homes were built from 1890 to 2022
There was a significant drop in sales for September, and wondering how much the elections are influencing sales in the luxury sector. 33% of the sales were paid with cash. There are 595 actives today with 77 days on market, and 259 in pending status with 64 days on market.
The highest-priced home sold was $5,899,999 in the Denver Metro and is in Chatfield Ridge. This home was built in 2009, on 41.25 acres. It has 8 bedrooms, 12 bathrooms, and a 16-car garage (yes, 16 spaces!). This home has 15,023 square feet and was sold in 67 days.
Looking for a home on acreage and private? With mountain views? Or would you like to see what homes are for sale over $1,000,000? How about a home in a gated community?

Contact me for bank-owned properties for sale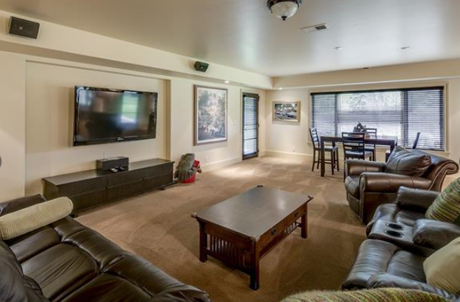 Football season is upon us, but a media room would be equally as nice to watch a movie with the family and/or friends.
There are 595 homes for sale in the Denver metro area listed over $1,300,000 up to $28,888,888. They have been on the market for an average of 77 days and these homes were built from 1886 to 2024. There are no bank-owned properties currently on the market, nor any short sales active.

There are 259 homes currently pending over $1,300,000 up to $17,900,000 with an average of 64 days on market. These homes were built from 1859 to 2023.

Here is how 2020 compared to 2021
Total Sales 2020 - 2,739 2021 - 4,487
Days on Market 2020 - 53 days 2021 - 27 days
Average Price Sold 2020 - $1,302,500 2021 - 1,350,000
% Seller Saw to List 2020 - 97.06% 2021 - 100%
With home values on the rise, we are seeing more sales over $1 million. I did bump the price point to $1.3 million for 2022. It isn't unusual to see a million-dollar home. We are seeing some homes linger a bit longer on the market now.

I have obtained my luxury marketing certification which has given me a multitude of new ideas. If you have seen a home in this post this intrigues you, give me a call - 720-231-6373.