You have decided to list your home! Congratulations! You have a REALTOR, and have done the paperwork required for the State to put it on the market. Have you had your professional photos done? Did your REALTOR walk your home and give you suggestions on how to stage your home so the photos turn out STUNNING?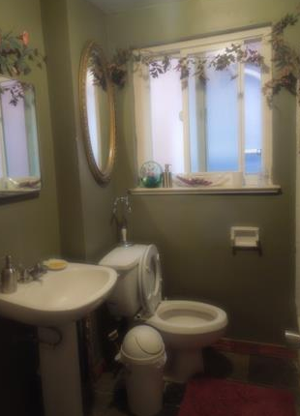 The photos done of your home, will SELL YOUR HOUSE! They have to be top of the line crisp and clear for buyers to want to set showings to see your home! There was a time, it was said to eliminate everything for the home to look good in photos, but you do want a bit of decor, not all shelving and counters to be completely clear. You want the home to be inviting.
The toilet seat MUST be down, all trash cans put away, no mats on the floors, and I would have asked for the stuff around the window and mirror be removed, it is distracting. You want them to see there are newer windows and the sink and mirror are newer.
If there are items you want to keep - like custom mirrors, or the dining room chandelier your parents gave you for your wedding, take it down and replace prior to the photos being taken. It is better than the buyers seeing the chandelier and WANTING it badly.
Some agents don't hire a professional to take the photos, and they are dark - like this bathroom photo. They also have wide angle lenses and can capture an entire room, not 3 or 4' of it. Cell phones take pretty good photos, but not for real estate!
I have a professional photographer that does a great job with years of experience. If you have thought of selling in the near future, give me a call and we can discuss your thoughts!