The stats are out for the month of June, and it was another very busy month! We are still down over last year with inventory (-61.8%), but at least seeing more listings coming on this month! Sellers sure are seeing a great bottom line with the Average sales price increasing 27.6% over last year! We are seeing more price reductions now in some areas, telling Sellers to be careful with their listing price. Back in March we saw less than 2,000 listings, and now mid-July we are seeing almost 4,000, so this is assisting buyers!
The following data is courtesy of Joan Cox - House to Home, Inc.
With Buyers offering thousands over appraised value, buyers were having to bring those extra dollars to the closing table, along with their down payment and closing costs. Appraisers were doing a good job in appraising high, so that appraisal gap wasn't so dramatic. The number of pending properties has decreased over last month, and listings have increased - showing a bit of a shift.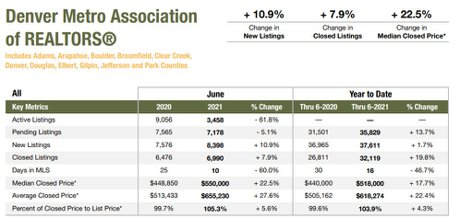 See what homes are currently available - Active Homes for sale in Denver
Buyers - If you have thought about buying a home this year - NOW IS THE TIME! The interest rate is unbelievable - below 3%. You can buy more home than you could one year ago. (But the prices are up over last year too.) Be sure to be pre-approved and know what your budget is! Be prepared, many homeowners are asking for a 60-day rent-back to find a replacement home.

Sellers - My sellers are seeing a nice bottom line! If you are thinking of selling but worried you won't find a replacement home, I can enter into MLS the fact you require a contingency of a replacement home.
Homeowners - if you have thought about selling and like like a home evaluation, please let me know, I will contact you right away. Relocating to Denver, and need some advice - see my Relocating to Denver information.