The stats are out for the month of September, and all the numbers revolve around the increase in inventory and interest rates, along with the lack of buyers. The inventory climbed 10% from August. The inventory has steadily been climbing in Denver since end of March.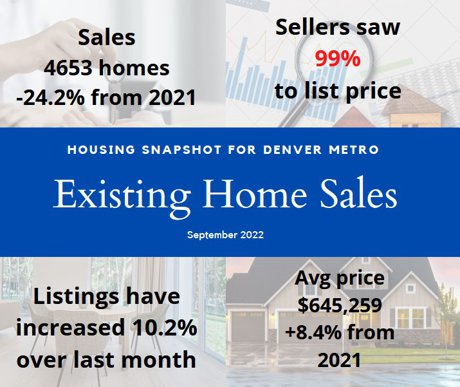 This data is courtesy of Joan Cox - House to Home, Inc.
I track data daily for the Denver metro area, and am seeing between 2,000 and 2,500 price reductions every week (to 7,800 listings) and almost 350 homes returning to market in a week's period of time. Both of these numbers have been steadily increasing daily. Days on market has increased to 26 daus. It remains a Seller's Market - until it gets close to 180 days.
See what homes are currently available - Active Homes for sale in Denver
Buyers - If you have thought about buying a home this year, rates have increased, but the good news, there are fewer multiple offers on properties. Be sure to be pre-approved and know what your budget is! With increased inventory you now have a bit more of a selection, and don't have to narrow your criteria. We are also seeing a high number of homes returning to the market, so it would be a good idea to write a back-up offer if you did not "win the bid", as you may get a second chance.

Sellers - My sellers are seeing a nice bottom line! Even though the inventory is increasing, there are buyers out looking for their dream home. Patience is key, we are not seeing the number of showings we did earlier in the year, and your home will be on the market a bit longer now. It also is KEY to price your home properly this time of year, or you will be sitting on it into January.
Homeowners - if you have thought about selling and like like a home evaluation, please let me know, I will contact you right away. Relocating to Denver, and need some advice - see my Relocating to Denver information.