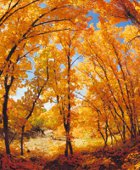 It is that time of year when you own a home, you should do some homeowner maintenance to protect your home from damage this Fall/Winter. Here is a list of things to think about.
Gutters and down spouts: clean the leaves from the gutters and make sure the downspout diverters are carrying the water about 3 - 5 feet away from the foundation.

Foundation: walk around the house and check the slope of the soil. Make sure there are no areas that slope towards the foundation allowing the water to pond next to the house. If you have a crawlspace be sure to check it for moisture.

Check the exterior of the windows and doors to be sure the caulking and weather stripping are in excellent condition.

Roof: if possible walk the roof inspecting flashing and vent pipes to be sure they are in good condition. (if you cannot, I do have a roofing broker that will inspect for free!)


Bushes and trees: if these are in contact with the house or roof, trim them away.

Chimneys: clean the flue.

Garage doors: inspect hinges to see they are secure to the door, and test the reverse mechanism (both the electronic eye and the pressure reverse) to be sure they are operating correctly.

Ground Fault Circuit Interrupters (GFCI): push the test buttons to be sure the power to the outlet is shutting down.

Smoke and Carbon Monoxide Detectors: push the test buttons to be sure they are working correctly.

Heating system: on forced air systems, be sure to change the filter once a month and if you have a boiler, be sure the pump is oiled. Have the heating systems tuned up by a professional HVAC company.

Kitchen: clean range hood filters, under the refrigerator and its' coils and be sure the fire extinguisher is charged and easy to get to.

If your house has a sump pump, be sure it is operational.

Disconnect garden hose from outside faucets. If hose faucets are not frost-free type, be sure to turned off water on the inside of the house and the faucets are drained.

If you have a wood burning fireplace/Stove, have it cleaned and inspected.

Winterize sprinkler system before Halloween.