The Colorado Freedom Memorial is the FIRST memorial in America dedicated to ALL wars, ALL branches of service, and contains the names of all those who died or were missing in action. The names are grouped by war, but not alphabetically. It is located in Aurora CO near Buckley Air Force Base. The glass panels are angled so they can reflect Colorado's mountains and blue skies.
You can't see them, but the names are etched into the glass.
The memorial is constructed of glass with a granite base that is 95 feet wide and 12 feet tall. When writing this, there are approximately 6,000 names on the Memorial.
First, we honored Colorado's fallen heroes, the sons, and daughters of the Rockies who answered their nation's call to defend freedom, paying with their lives. Now, to complete the Colorado Freedom Memorial Circle of Honor we have placed this beautiful tribute on our grounds to salute the families they left behind.
Working closely with the Woody Williams Foundation, creators of the Gold Star Families Memorial Monument, The Colorado Freedom Memorial is honored to be the first location for the GSFMM in our state. Alongside the CFM, with names of our fallen heroes and Home's Embrace, containing soil from gravesites of those that lie overseas, The Colorado Gold Star Families Memorial lets us show our deep gratitude with tributes to those fallen, the places they lie in peace, and the families that still bear the pain of sacrifice.
These heroes left the mountains of home to fight in places they'd never heard of, answering their nation's call to duty. Over half of the men and women honored on the Memorial never returned home, their remains lost at sea, never recovered behind enemy lines, or buried in faraway places. For families that never had a cemetery to visit, the Colorado Freedom Memorial becomes a place of grief and of healing.
In the 5 years since this monument was dedicated, thousands have come to visit, to shed tears, to reminisce, to pay tribute, to just sit and remember. Ceremonies have been held here, motorcycle rides have stopped here, Memorial services have been held here and respect has been paid here. The Colorado Freedom Memorial touches each visitor in a special way.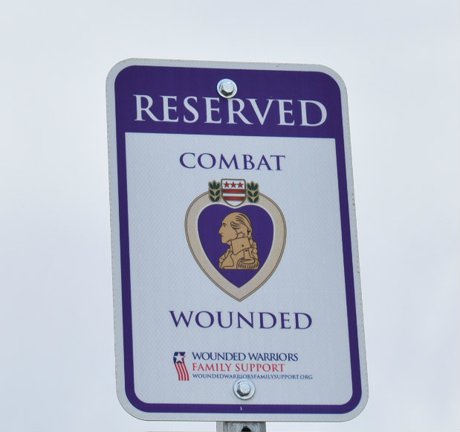 They even save a special parking space for the Wounded Warriors.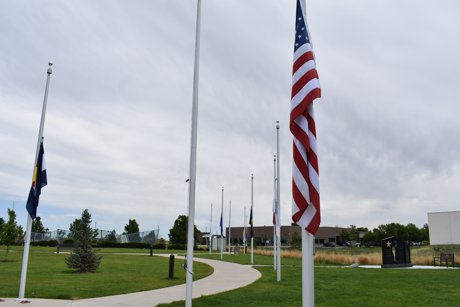 There is a Colorado and an American flag and a flag for every branch of service.
And before I left, the wind picked up, and got a good photo of Ole Glory.
Take some time to visit this memorial.
756 Telluride St., Aurora CO 80011