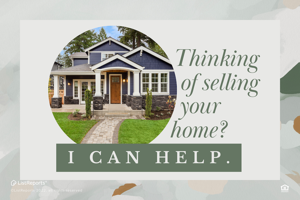 If you have thought about selling your home this year, you still have time to do so!
Typically, the market picks up again after Labor Day, although slower than the Spring market. This year it is a bit slower than past years with the higher interest rates. There are still homes going pending in a day or at least a few days. But the key is to list it correctly! This time of year isn't the time to "test the market", and list too high. You could be sitting on your listing until 2024.
Key Points -
1. List at a fair market value for the amenities and upgrades in your home.
2. Have the home ready to move in, so buyers won't have a reason to give you a lower offer. Have the roof and furnace checked out so you know if you have issues.
3. Have your home looking like the BEST HOME on the block. Having awesome curb appeal will entice buyers to your home, therefore resulting in more showings/offers. If they see a stunning exterior (either in a drive-by or in MLS), they will keep going to see what else your home has to offer!
4. Have patience. Even though some neighborhoods are moving pretty well, others have more inventory than what is selling, and you may be on the market longer than you think.
5. The market does slow down right before Thanksgiving, and picks back up after the first of the year, but there are usually some serious buyers in December.
If you are wondering what your current home value is - click on the link below, and I will be sure to get right back to you with the most current value.
If you are thinking of selling this year, give me a call and we can discuss your options.