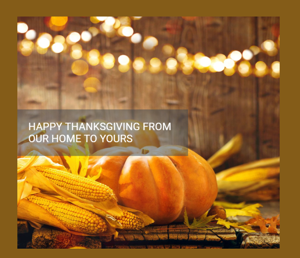 As we celebrate Thanksgiving, my heart is overflowing with gratitude for so many blessings that have blessed my life. I am surrounded by cherished friends and so many clients that have become close friends. This fulfillment comes from pursuing a career I am so passionate about.
From my home to yours, I wish you a heartfelt Happy Thanksgiving. May your day be filled with gratitude around you all! As we gather around the Holiday table this year and the company of our loved ones, embrace living your life to the fullest, as it is a miracle.
May this Thanksgiving be a reminder to live in the countless miracles that fill our lives with meaning and joy. May the good things of life be yours in abundance, not only at Thanksgiving, but throughout the coming year!