Barr Lake State Park
We don't have an ocean but do have some beaches and lakes/reservoirs to enjoy some outdoor fun, and not just in the summer! Fishing, trails, biking, horseback riding, bird watching - what's your pleasure?
It is known that Barr Lake has many bald eagles that nest and fly in and around the lake and 350 species of birds in the area. Any given day you will find people walking along the trails around the lake toting binoculars and cameras. You can see many nests in the trees (especially after the leaves have fallen). You can also see the eagles perching on the top of these trees pretty easy as well.
The lake is down quite a bit since we have not had much moisture for quite some time. When this lake is full, it covers around 2,000 acres. The lake is open to sailboats, hand-propelled crafts, and boats with electric trolling motors or gas motors less than 10hp. You will see many hikers with their dogs walking - there are numerous trails within the park, including the 8.8 mile Barr Lake Perimeter Trail, a 1.3-mile Gazebo Boardwalk, and a Neidrach Nature Trail through the wetlands. On the trail into the wildlife refuge, dogs are not allowed. You will see many riding horses throughout. Waterfowl hunting is permitted during the season - reservations are required.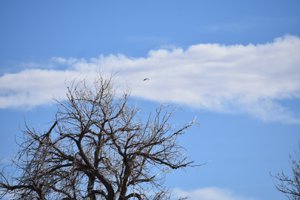 There are so many birds at the edges of the lake. When they took flight, it was a sight to see!
Details
Address: 13401 Picadilly Rd, Brighton, CO
Phone: 303-655-1495
Season: Year-round
Hours: 5 am-10 pm (unless fishing)
Fees: Vehicle (per day) or annual pass
Pets: Yes, on leash
Map: Barr Lake (PDF)
Website: cpw.state.co.us/…
The park is for day use only (unless fishing) , no camping is permitted.