Algonquin Acres
You will find Algonquin Acres North of Arapahoe Road and West of Jordon Road in Centennial. This neighborhood is located on 1.66 square miles. You will find ranch homes and two-stories located on nearly one acre lots guilt from 1960 to 2002. This community was established in 1959 and consists of 76 lots. Often Algonquin Acres is called a "gold mine" of rare one-acre lots in the Denver Metro area. It is conveniently located between the Denver Tech Center, Inverness Business Park, and the prestigious Valley Country Club and Golf Course. Many enjoy walks to the Cherry Creek State Park, dog parks, horse stables and many trails for walking, hiking & biking.
Living in Algonquin Acres, you will live close to a soccer complex, 9-hole golf course, ice arena, family fun center and lots of retail options (Arapahoe Crossing, Cornerstar & Pioneer Hills). The Denver Broncos training camp is Southwest of this community.
The following are more facts on the neighborhood -
There is a voluntary HOA, not mandatory
Most homes have 3-car garages
Homes range in square footage from 1,840 square feet to 3,444 square feet above ground, and some have up to 5,626 finished total square feet
This neighborhood is very popular as school-age children will attend Cherry Creek School District. The kids will attend High Plains Elementary, Campus Middle School and Cherry Creek High School.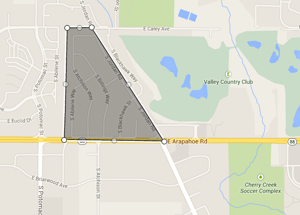 Below you will find the current active listings in Algonquin Acres for your convenience -
(if no listings are showing up, there are no listings currently)
No current listings, please check back later.